Issue 3 / Week 1, Dec. 2020
DPES Sign Expo China 2020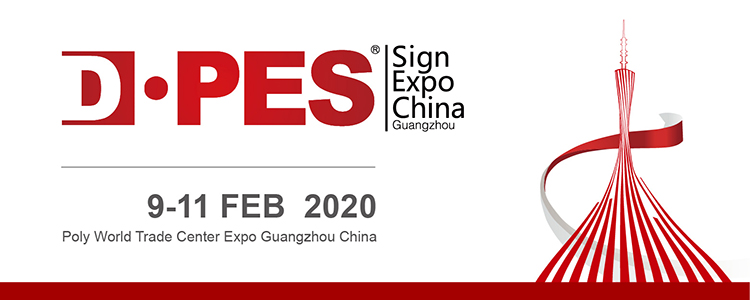 Exhibits Preview – Consumable




Guangdong YIDU Technology Co.,Ltd
Booth No. : G16 Hall B1

Self-adhesive Vinyl

- Glossy effect
- Ink absorption and quick drying
- Vivid color

Tch Warp Knitting Fabric Co.,Ltd
Booth No. : G11 Hall B1

Display Fabric

- Flag fabric
- Canvas
- Textile backlit fabric

Shanghai Asianen Export & Import Co., Ltd
Booth No. : G16-1 Hall B1

Knife Coated PVC Tarpaulin

- One side lacquered, enhance outdoor lifetime
- High strength fabric, good tearing
- Customized spec. available, to match different application

Haining Kings Louis Technology Co.,Ltd
Booth No. : G08 Hall B1

PVC Flex Banner

- PVC flex banner
- Tarpaulin
- Coated banner

Guangzhou Tome Advertisement Material Limited
Booth No. : G01 Hall B1

Self Adhesive Vinyl

- Be composed of pvc film, glue and release paper
- Widely used in outdoor advertising
- Simple operation, vivid color

Haining Taiwei New Material Co.,Ltd

Booth No. : H19 Hall B1

Flex Banner

- Good inkabsorption and weather resistance
- Tarpaulin(cover)
- Inkjet advertising banner

Guangzhou Fortune Digital Technology Co., Ltd
Booth No. : G04 Hall B1

Flex Banner Introduction

- Easy to absorb ink, quick drying, the graphics are brilliant
- Weight: 220gsm to 680gsm
- Size: 1m~5.1m*50m/100m. Can be customized

Foshan Gaoming Kangfei Sicence and Technology Co., Ltd
Booth No. : H05 Hall B1

PVC Foam Board

- Crust plastic PVC foam board
- PVC co-extruded foam board
- Colored PVC foam board

Shenzhen Xintao Acrylic Co.,Ltd
Booth No. : G16-1 Hall B1

Virgin Cast Acrylic Sheet

- High-class quality can reach GB/T7134-2008 standard
- Visible light transmittance up to 93%
- Stable weather resistance
- Size and color can be flexible customized

Guangdong Yue Hui Technologies Inc
Booth No. : G10-1 Hall B1

Cold Laminating Film

- Strong tensile strength
- Smooth sealing and low cost
- High adhesion
- light weight and no deterioration

Guanghzou Boqitu Digital Map of New Materials Co.,Ltd
Booth No. : H01 Hall B1

Lamination Film

- Energy saving and environmental protection
- Affordable
- Fast film covering

Guangzhou Thinkon Building Materials Co., Ltd
Booth No. : H22 Hall B1

PVC Frosted Board

- The edges are neat, burr-free and accurate in size.
- The surface of the board is frosted.
- High hardness and good toughness.
- Uniform hardness on both sides.

Pre-registration is now open for DPES Sign Expo China 2020. Embrace your excellent chance !


If you are not interested in this letter, please click here